A Public Membership Fishing Club near Marion, AL, Perry County


Donavan 5 lakes (gps): 2131 Eagle Grove Church Road, Marion, AL 36756
Bar-D 4 lakes (gps): 977 Perry County Road 20, Marion, AL

Waypoint: N 32-33.385 W 087-18.656



Membership for 2022 now being accepted = $1,000 for the calendar year.
Club membership includes all 9 lakes. Membership fee is non-refundable.


The Donavan Lakes Fishing Club and Donavan Inn are located on Perry County 38 (four miles south of Marion on Hwy 45; take Perry County 38 west for one mile; Donavan Club sign and gate on the right). Or, if traveling on State Hwy 5, go six miles south of Marion and take Perry County 38 east for 2.1 miles; Club sign and gate will be on the left.


Donavan Inn - A working farm on the Blackbelt Prairie, Marion, Perry County, Alabama ... home of the Donavan Lakes Fishing Club.



Donavan Inn Weddings and Special Events
Owner: Donavan Inn & Donavan Lakes Fishing Club
Roy Barnett, 334-247-2099
rbarnett21@bellsouth.net
- Events/Rentals
Managers: Tyne Olkie, 205-288-6027. tzcoley@gmail.com

and
Brandy Roye, 205-288-2456. kbkkl@yahoo.com
Donavan Lakes Fishing Club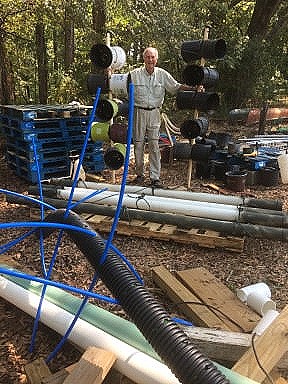 Manager Wilson with his inventions of "beaver proof" bass and crappie structures (see plan below). Many of these fish magnets were placed in Donavan, Sturdivant and, especially in Lake Roy at Bar-D. Bass Concrete Condos were also put in Donavan and Roy ... watch for metal four metal poles sticking out of the water .... there is a pile of cinder blocks in the middle of these poles. Floating pallets on metal poles were added to these three lakes. Wilson marked these new structures with duck decoys and small buoys. Text or email Manager Wilson and let him know if these new fish structures are producing fish.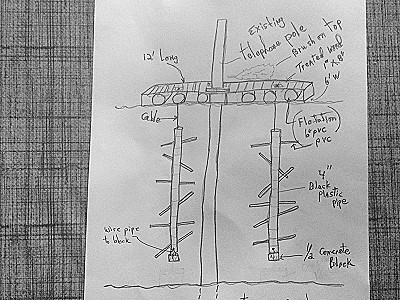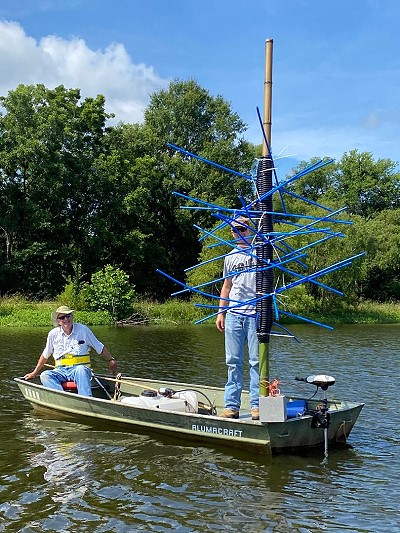 Manager Wilson and Phillip Peek putting a bamboo bass tree in Donavan Lake, June 2020.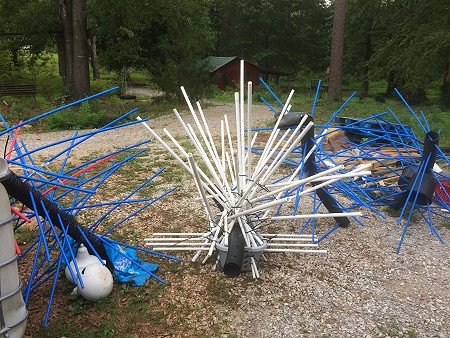 Beaver proof PVC fish magnets .... creations by Manager Wilson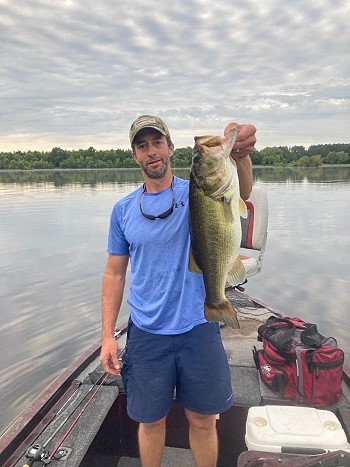 Jason Conner with nice Club bass... summer of 2021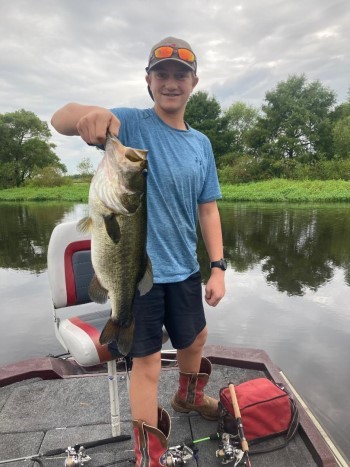 Gunner Conner ... 2021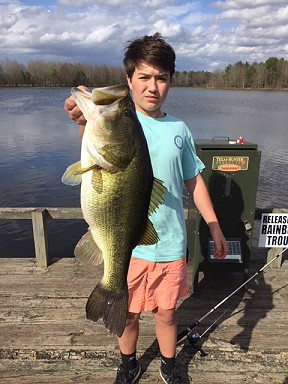 Tyler Hudson, grandson of member Dr. David Allgood of Brierfield, with a big bass from Sturdivant Lake.
Caught on a Gay Blade (February, 2018))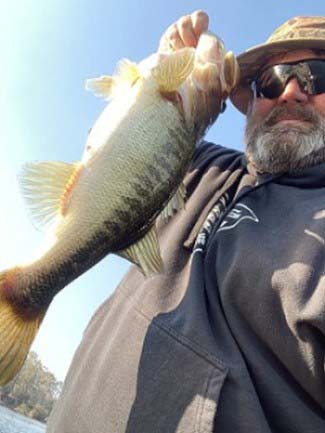 Bill Bright with nice bass from Lake Ely... Nov. 2021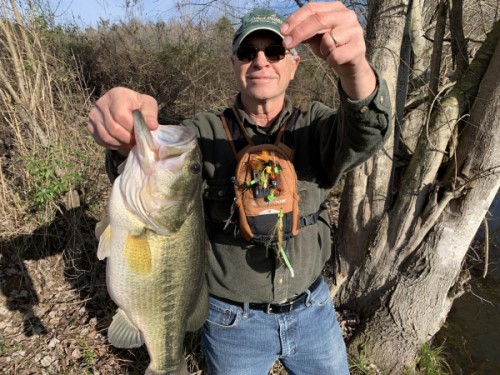 Gene Gautro, Birmingham, with big bass on fly rod .... minnow fly that he tied. 7 Jan. 2022.
Gene is a certified Pickleball instructor.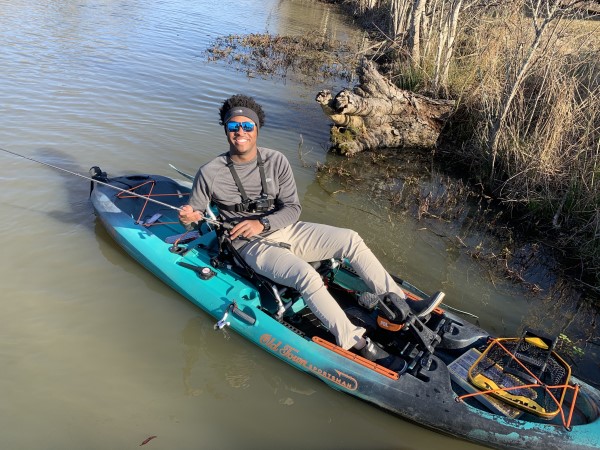 New Club member, Larry Melton, Jr. ....
U-Tube programs on fishing ... check him out!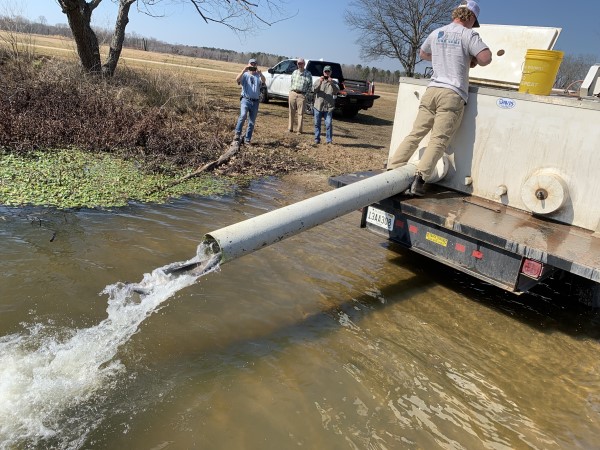 Davis Fish Farm, Centre, AL, stocking Donavan Lake
with 1,000 lbs of adult Northern Bass ... February, 2022.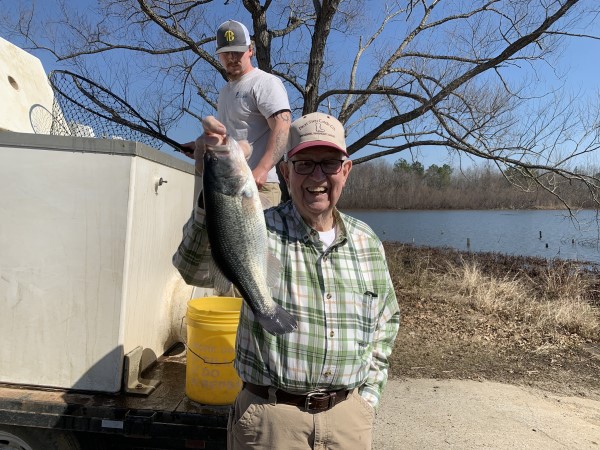 Club owner, Roy Barnett, Jr., with nice Northern Bass
being stocked into Donavan Lake, February, 2022.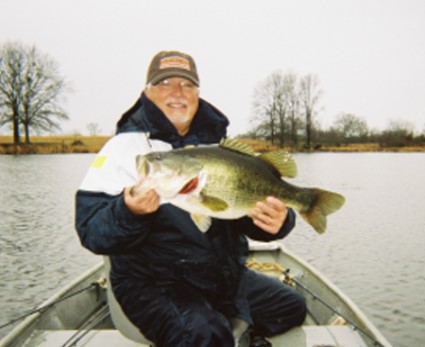 Dr. Billy Bishop with 11 lb 5 oz Club bass


.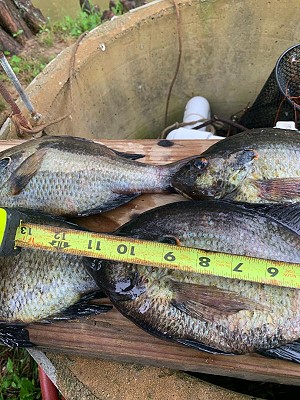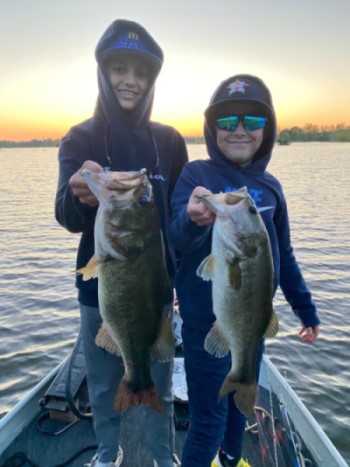 "Manager Wilson, Had a great trip to the Club in mid-April, 2022.
Late in evening we caught them well for about 2 hours.
Next day caught about 30 with quite a few 3 and 4 lb fish.
My boys loved it .... we will be back soon... thanks, Brian Sharp.




Ken Marion, Birmingham, with nice 10 lb 3 oz. bass on a worm (April, 2016). Ken caught 14 nice bass on the morning of 23 December, 2018.

Ken is past President of the Alabama Audubon Society and here is a memo he sent to me about birding at the Club...
Birding at the Club. Birding Note: Manager Wilson saw an American Bittern on the shore of Donavan Lake in mid-December, 18. Several Loggerhead Shrikes are at Donavan, 15 April, 2022.






Tim Frank caught this 10 lb bass on a fly rod .... weighed with a certified Boga Grip scale, April, 2020.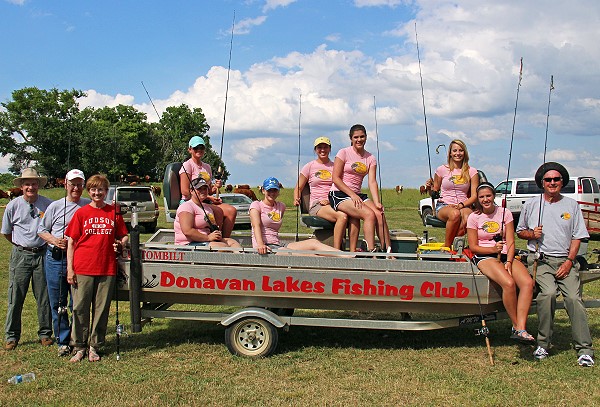 Manager Wilson's Judson College bass fishing class... summer 2013.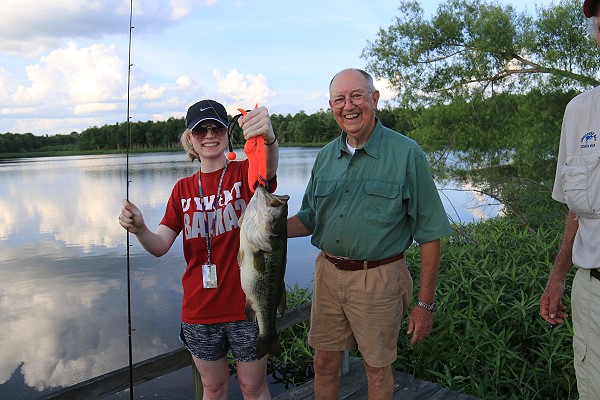 Club owner, Roy Barnett, with Judson College student, Kaylan Hammonds, on Sturdivant Lake pier. Kaylan is a student in Manager Wilson's bass fishing class. Bass caught on 10" crawdad worm... 7lbs 1 oz. (June, 2015).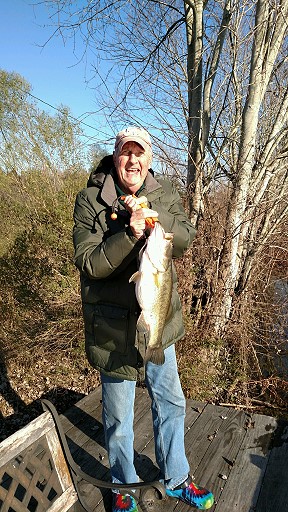 Schooling bass chasing shad... Manager Wilson (31 Dec. 17)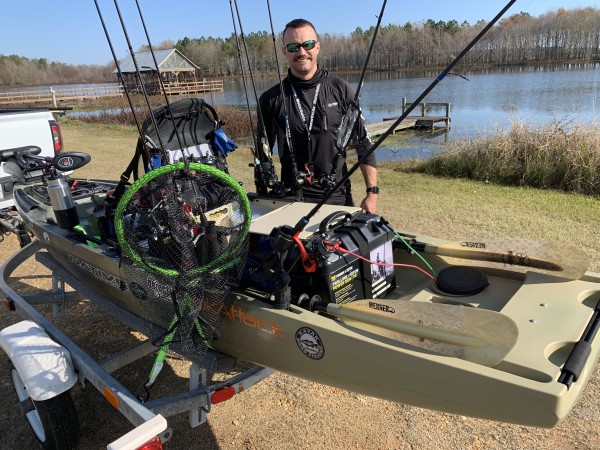 Josh Parkinson, Hoover, AL, with custom designed kayak.
Motorguide X13 wireless Kayak trolling motor and Lowrance Fish Finder, Jan. 2022.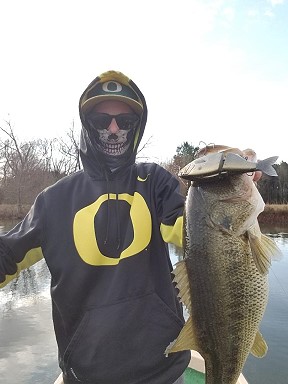 Jim Leachman, Montgomery, with big club bass ... notice the huge glide bait that caught this fine fish. Jim caught 10 bass that cold morning... top 5 bass weighted over 32 lbs. 23 Dec. 2018.


Bowfin are in Donavan Lake.... Notice
A fairly large population of adult bowfin fish has been identified in Donavan Lake. Manager Wilson has watched them feed on shad and has seen members hook into these big fish. Go to our Club News link for more information on catching bowfin fish.



Jay Haffner, District III Fisheries Biologist, and, Dr. Ken Marion, Biologist from UAB (see Ken's photo at top of page), both advise the removeal these fish eating predators from all club lakes... please do not release Bowfin back into the lake. Read the correspondance among Wilson, Haffner and Marion concerning Bowfin management at the Club.


Members: Send me a photo of a Bowfin that you have caught! (Manager Wilson, 12 Aug., 2014).


Immediately release all bass over 3 pounds. I will be checking livewells and ice chests more often. If you break this rule, you will be removed from the Club!


Trophy Bass - 13 lb 2oz bass caught at Club (25 August, 2012; weighed with digital scales). Rod Bamberg, Marion, caught this lunker and stated, "I have never seen such a huge head on a bass. It was enormous. I was so nervous that I wasn't able to take a picture." This bass is still swimming in the lake. This fish could easily gain a pound by spring, and, with 3 lbs of eggs...a new State record will be waiting on some lucky Club member.

Another trophy bass (below) caught by Rod Bamberg from Club lake... spring of 2016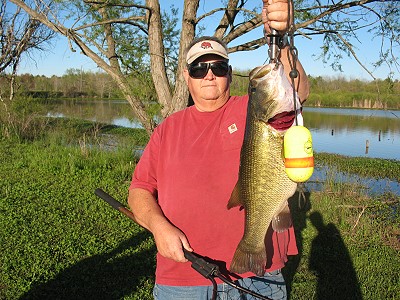 My records show that this is the 8th bass caught from Club lakes weighing over 12 lbs. The largest weighed 14 lbs 1 oz and it was caught from Lake Ely by Randal Cowart, Bessemer, in 2000. A photo of this bass is on the Club web site (Manager Wilson).
Manager Wilson sets record for largest fish recorded from Club lakes
(6 Jan., 2019 ... see photo below).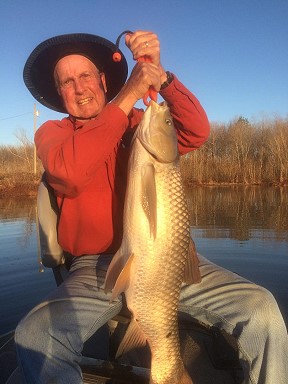 "I have a monster... look at that rod...it's pulling the boat... this is the biggest fish of my life"...That's me all excited about what was on my 12 lb test line and my light action 6 foot rod.


The fish ran under the boat... I stood up and put the rod deep into the water... the fight was on. I soon realized it was not a bass. I thought it must be a huge bowfin. "It's a grass carp shouted Rod Banberg from a distant boat. After a long battle Phillip Peek netted the monster and a beautiful but useless White Amur ... Asian Carp ... better known as a grass carp was in the boat. I had snagged the fish in the dorsal fin which allowed the big fish to put up a maximum fight. The weight was an official estimate of 40 pounds and I immediately took it to my friend Tina at the Lotus Garden Restaurant. Tina and family were very excited to get this famous Asian delicacy.

Bass were again chasing shad in the lakes. The challenge with this feeding frenzy is to find a lure that will turn the bass away from shad and onto your plug... another fun day at the Donavan Club. Jim Leachman (below) moved to Alabama from Washington State... where he fished the Columbia River for largemouth and smallmouth bass. Jim is catching lots of big bass from Club lakes... 3 at 10 lbs and bigger bass have been brought to the tube. Jim fishes out of a tube.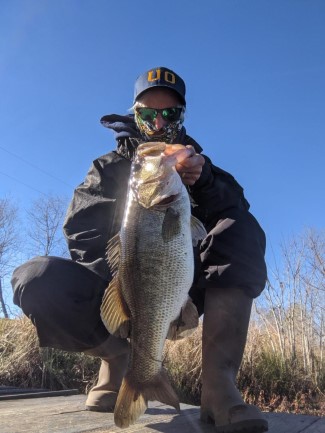 Jim Leachman with 7 lb bass ... Dec. 2021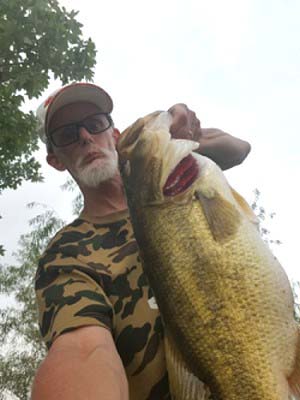 Here is an email to me from Jim about outstanding fishing at the Club (Sept. 17):


Got another big one today. She weighted 10.58, I did measure her because it was a long fight so I got her back in the water as soon as I could. Got her on a "fire tiger" lipless crank in open water off same pier I got the other 2 from. Blue sky's partly cloudy. Time was around 10:30-11:00. I went to Roy after that and got on a nice crankbait bite, maybe 7 fish or so. BUT at the very end I hooked a fish on that little snag just left of the ramp. To tell you this was the 2nd biggest bass I had ever seen live. The other was in a Bass Pro Shop tank in Las Vegas. I kept her under water for more than a min and she was ripping drag even though I had it as tight as it could be. Then she jumped, pro 3 feet out of water and spit the crank. She had to be almost 30 inch and over 12lb. She jumped right in front of me so I got a great look at her. That is the problem with these small squrebills cranks, hard to keep them buttoned up. My heart just sank when she spit it. Outside of a tank never seen a fish like this in my life. Took few pics of fish from today but they were terrible, hard to take pics of big fish by yourself.
Here is another note from Jim (27 Feb. 18):
Well I hit Donovan before coming into town. Fished for about 70 mins or so before rushing into town. First time in long time I caught water at a boil. Nothing on squrebills no matter where I threw. Then went to the same lippless that I had hooked my last 25 fish at the lakes. Then it started, fish after fish after fish, all over 4.8 up to 6.8 . Caught 15 before I took a break. When I came back the water was kinda on and off with the boil. But I picked up right where I left off just banging them. Trick was I caught EVERY fish from the same spot, like a 5'square area and if I didnt hit that spot I didnt get bit. Was crazy day. I was up over 35 fish and lost prob another 15. Was so tired I decided to quit, losing fish after working them all the way to the dock and have them come off was a lot of work. Here is a pic of what was a very nice lure before I started and the reason I was losing fish. And had no more baits like this one and they would bite anything else. Show original message

Improvements for 2016: We are using Davis Fish Farms of Leesburg, AL, for all of our bass, bream catfish and shad stockings. We buy our pond fertilizer, Fish Pro Max, from Davis Fish Farms..A big load of adult Northern Largemouth Bass was added to Snag Lake on 13 January (photos below). A load of adult Northern Largemouth Bass was added to Swamp Lake on 23 of March.

1,000 ten inch long channel catfish and a load of Coppernose Bream were added to Lake Emma Lou on 13 January.


Threadfin Shad were added to lakes Snag, Swamp and Gayle in early April of 2016.
250,000 Golden Shiner fry were added to Snag Lake and to Swamp Lake in April of 2016 as was done in Donavan Lake a few years ago.


We continue our pond fertilizer program (Davis Fish Farm - Fish Pro Max, 10-52-4).




We have constructed a casting bank spot on the dam between lakes Roy and Ely ... April of 2016. This will allow bank fishing above the pipe opening that drains Lake Roy into Lake Ely. The water can really churn at this spot during a period of rain. A large tree was dropped into the water near this casting spot (see photo below).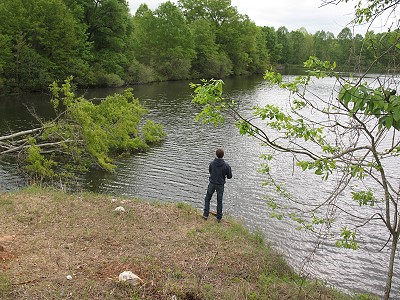 Adult Northern Largemouth bass were stocked in Sturdivant lake in the winter of 2012. We stocked adult Northern Bass in Lake Roy in February, 2019. Lake Roy is "Catch and Release all Bass" till October, 2020.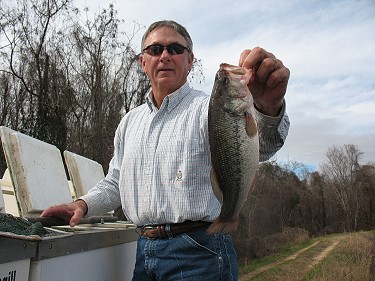 The Donavan Club uses Davis Fish Farms, Leesburg, AL., for the stocking of all fish in our lakes.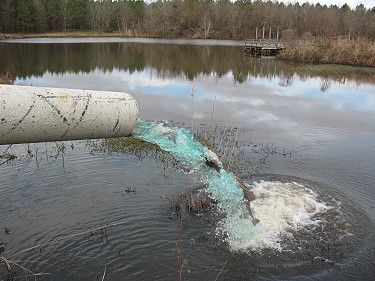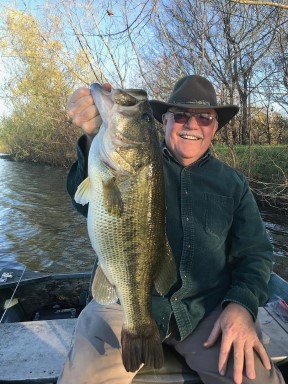 Steve Crawford (above), Marion, with another nice bass - 2018.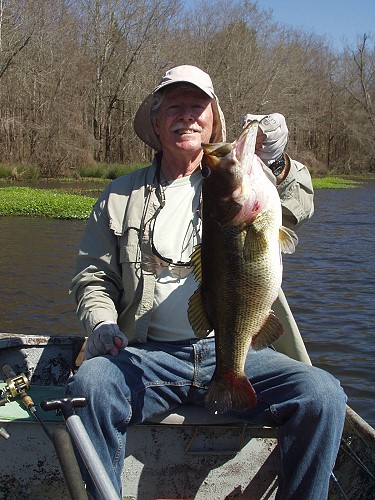 Dr. Ken Marion with big bass from Snag Lake, 14 March, 2016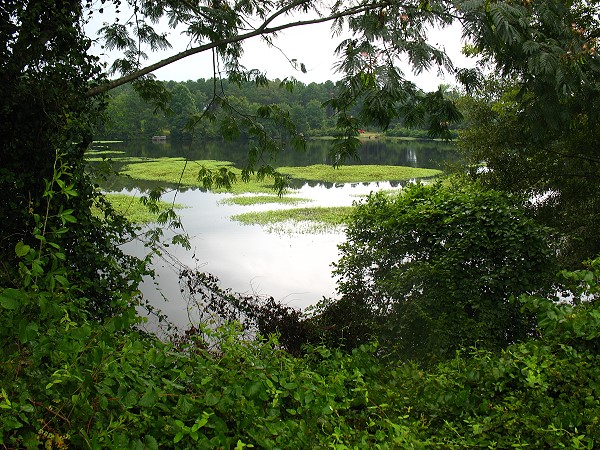 View of Lake Gayle (above)showing casting lanes carved from the weeds by Manager Wilson for outstanding topwater fishing, 16 July, 2014.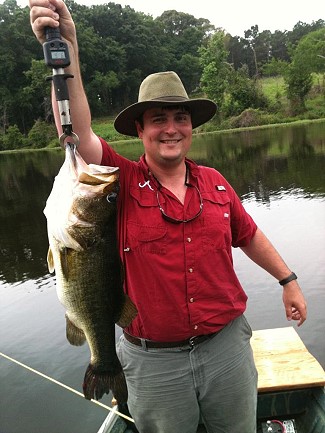 Ken Barton caught this huge bass from a club lake in the summer of 2015.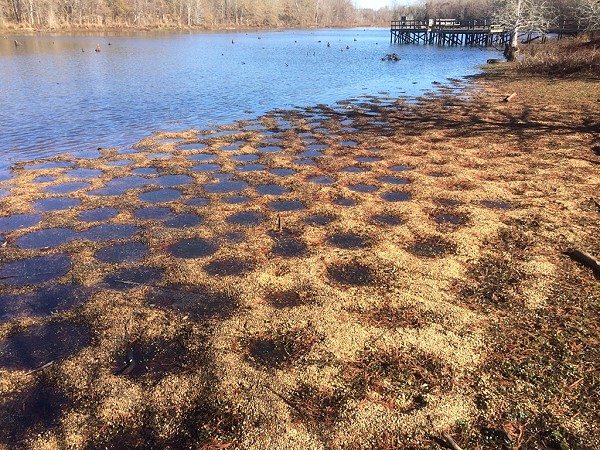 The drought of 2016 let us see the bream beds in Snag Lake...
built on the pea gravel that was added when the lake was constructed.

Crappie Alert: Crappie are bad for bass and bream lakes. They feed on fish eggs and on young fish like a pack of wolves. The first crappie caught from any club lake was caught from Lake Donavan in 2011. We now have slab crappie in Donavan and Snag lakes. If we have them we might as well enjoy them. Keep all crappie that you catch! Do not put any crappie back into the water...keep all small and all large crappie. Keep all the crappie that you catch...no limit on crappie.

Please report any crappie caught in any club lake to Manager Wilson. thank you and good fishing. tw




[email sent to me in April, 2013. Look in Donavan Photos for additional images]

Dr. Wilson,

I have sent you many stories in the past but have never really sent many photos so here they come. My brother is in one of them and Dr. Clements is in another. All fish are over 8 lbs except for two. One is obvious, two fish caught on one lure.

I do not have photos of the one night we (Dr. Clements and I) caught over 200 lbs of fish in 4 hours (10 at 3lbs, 10 at 4lbs, 10 at 5lbs, 6 at 6lbs, 5 at 7 lbs, and 2 over 8lbs) Craziest thing we have ever experienced. They were not taken digitally so I don't feel like sitting here and scanning them in.

Many times I didn't have a camera with me unfortunately. My camera broke so I had to use my cell phone for the last year and the quality is not as good.

Thanks for the great times, Edgar Luna [April 13, 2013]
Club Website created and maintained by
Thomas H. Wilson, Manager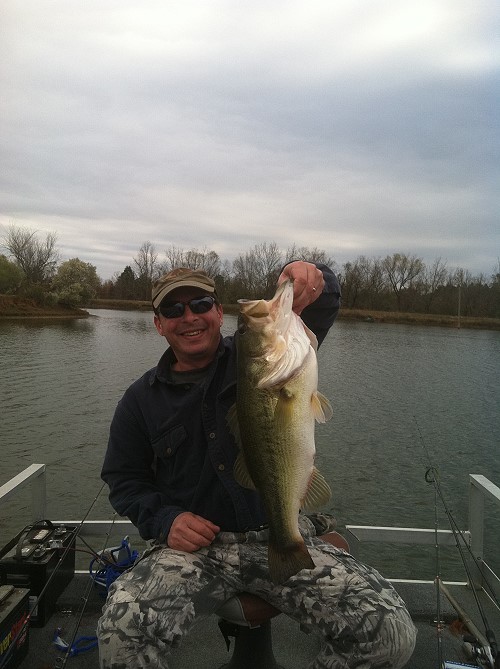 Chris Ryan of Birmingham caught this bass from a club lake in mid-March, 2012. See more bass caught by Chris in the Donavan Photos link.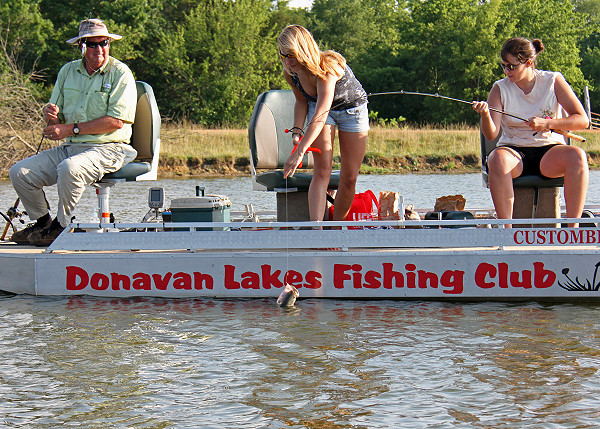 Manager Wilson teaches bass fishing each summer to Judson College students. Rebecca Reams and Rachel Walker were ourstanding fishing ladies and they love to fish (Wilson retired from Judson in August, 2018 ... so, no more fishing classes)..

All Club lakes were designed, stocked, and are managed by Thomas Wilson. All 17 piers were designed and constructed by Thomas Wilson.

All Donavan Lakes are stocked with Tiger Bass from American Sport Fish Hatchery.

Bar-D lakes are stocked with the "Marion" strain of the Largemouth Bass...a cross between the Northern and Florida subspecies (created by Jack Snow at the Marion Hatchery in 1960).

All Club lakes are stocked with Threadfin Shad, Golden Shiners, and fat head minnows. Roy, and Gayle also have Gizzard Shad.


As of 22 May, 2022, we have 102 members in the Club. .
I will routinely update the membership number for the Club.



Club lakes water temperature on 22 November, 2021 = 60 degrees.
Bass and Bream Limits per Day: 5 bass per Club member per day, or, 8 bass per party (Club member + family and one guest). Inn renters make keep 5 bass per renter, or, a total of 12 bass a day for a party of more that 2 Inn fishermen). 25 bream per day per member; 50 total per party per day.



Shad and Shinners for 2014

Shad added to Sturdivant, Snag and Swamp: We added a load of Threadfin Shad to Snag, Swamp and Sturdivant lakes in April of this year just as we did in 2012. This makes a total of 40,000 threadfin shad added to these two lakes in the past two years.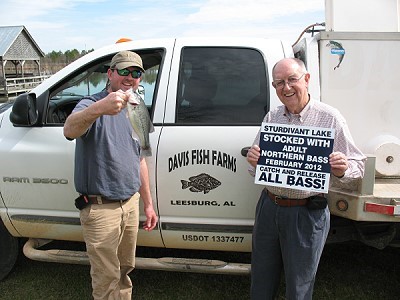 Danial Davis of Davis Fish Farms in Leesburg, Alabama, stocked 320 lbs of Missouri Northern Largemouth Bass into Sturdivant Lake on 17 February, 2012. In March, Daniel stocked 10,000 Threadfin Shad into each of the following lakes: Sturdivant, Swamp, and Snag. Northern Bass are aggressive and much easier to catch than the Tiger bass stocked in all other Donavan Lakes (not Bar-D Lakes).




Rod Bamberg of Marion caught this 9 lb bass in May, 2013 (left) and another trophy (right) in March of 14. Rod has the Club record at 13 1/2 lb.






Donavan Lakes Fishing Club and Inn is featured in the new State web site, www.alabamablackbeltadventures.com, promoting outdoor sports and recreation on the Black Belt.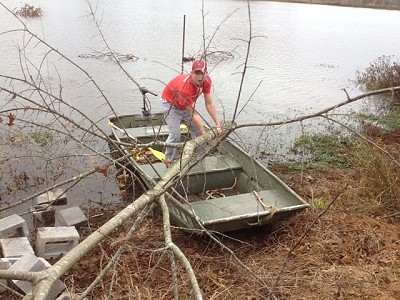 Hudson Wilson, grandson of Manager Wilson, worked hard adding piles of trees to Sturdivant Lake. Hudson worked in the rain and wind but we now have about 15 "fish magnets" in Sturdivant Lake. Hudson joined the Marines last week and he leaves in about a month for boot camp. Thanks for helping grandaddy Hudson.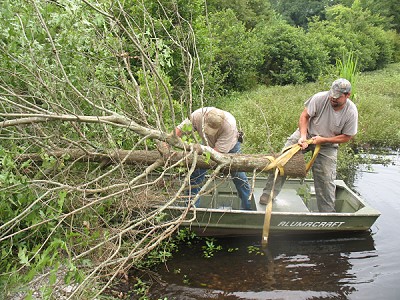 Greg and Jessie Holifield loading a large tree to be added to Lake Gayle for sturcture. We added seven piles of trees in Lake Gayle on a rainy day in July, 2014. The piles of trees are marked with small bouys. One pile is not marked... see if you can find it!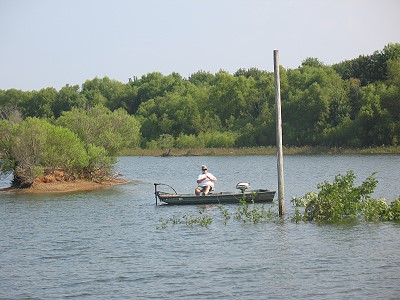 Piles of trees were added to Donavan Lake on 26 July, 2014. Rod Bamberg fished these new bass habitats the next morning and caught nice bass...lost one monster from the sunken trees. I watched small bass feeding in several of the piles of trees. We will add more trees and a few more piles of trees to Donavan within a week. Look for the small bouy markers. Manager Wilson
Important Rule! Release all big bass. That means DO Not keep trophy bass. Put that 8 lb bass back into the water; put that 10 lb bass back into the water; put that 14 lb bass back into the water. Only join this club if you will follow this rule! Manager Wilson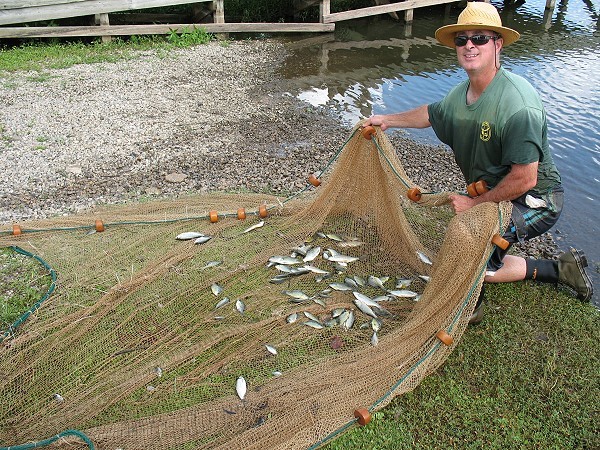 Jay Hafner, State District Fisheries Biologist, and Manager Wilson sampled the Club lakes
to determine fish population dynamics (21 Sept. 2011). The sein sample from Donavan Lake was tremendous...large numbers of Threadfin Shad, Golden Shiners, all classes of bream and some small bass. (above photo from July 2010 survey of Donavan Lake)

"Donavan Lake is a Throughbred Lake...not a pony...but, a big league fishery," stated Jay to me after third seining effort. "Let the water level drop in this lake for the rest of the year. This will force forage fish into open water and the bass will have a banquet... bass will get really huge," continued Jay.


Notice the large number of mature Golden Shiners and all classes of bream!
Select Donavan Photos (left column) for photos and story.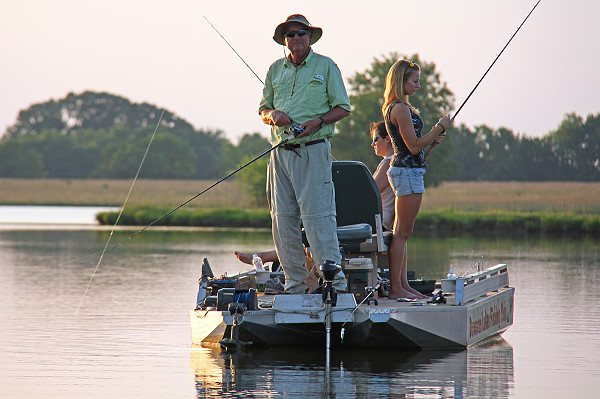 Manager Wilson taught bass fishing to Judson College students each summer. These students are good fishermen and they caught bass from the club lakes that weighted up to 10 lbs. Wilson retired from teaching in August, 2018.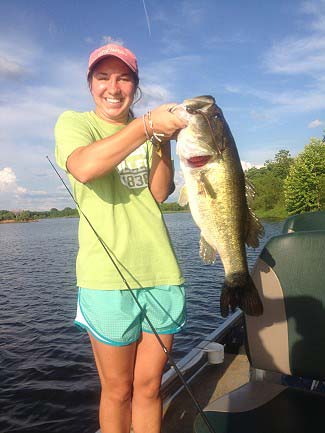 Susan Moore caught this big bass from Donavan Lake in May of 2012. Susan is a student in Manager Wilson's bass fishing class at Judson College. This is the first bass Susan ever caught! She was using an 8 inch purple worm and a 1/8 oz. slip sinker. The students caught lots of big bass from Club lakes during the summer bass fishing course.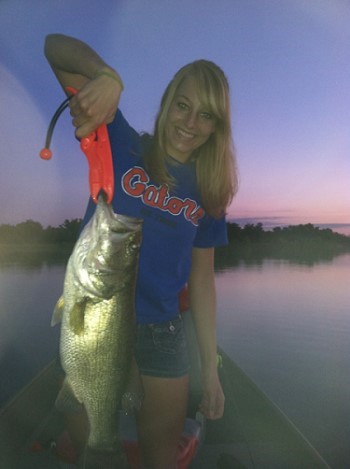 Rebecca Ream caught this big bass ( May, 2012) on a bass fishing class trip with Dr. Wilson to the Donavan Lakes Fishing club. This bass might be a little bit bigger that the one Susan Moore caught in the same lake a week earlier. "Judson girls can catch bass," Dr. Thomas Wilson (class instructor and Club Manager).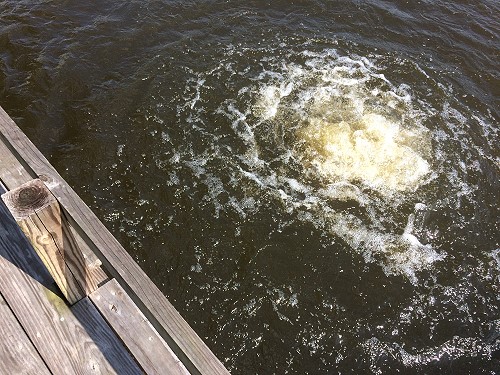 Donavan pier off ot the Sturdivant dam. When big rains fill Sturdivant Lake, the drain pipe empties under this pier on the Donavan Lake side of Sturdivent dam. The roaring current of water "boils" up in front of the pier. This water current attracts baitfish ... and then the bass come for lunch and the fishing can be fantastic. Rod Bamberg, Marion member, hit this spot at the right moment... using a 3/8 oz squarebill crankbait (19 June, 2017).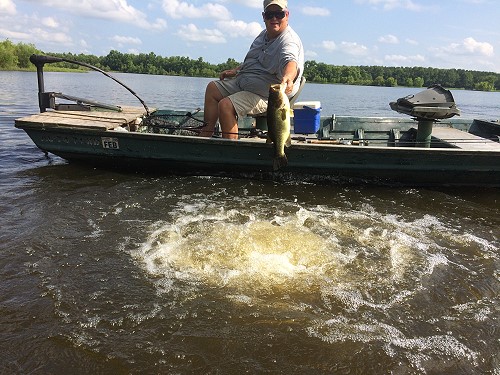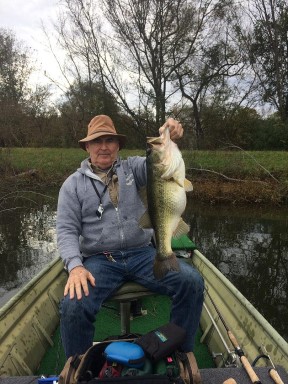 Tom Barronton, Montevallo, with another big bass - Dec. 18.

Johnny Cox of Saraland, Al, caught this big bream in a Bar-D lake in May, 2017. Ben Smith, Mountian Brook, with his first Club bass ... caught on his first fishing trip.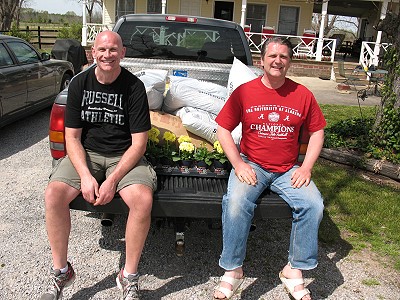 Dave Pinch & Jerry King from Surrey, England - April 2010

Englishmen visit the Donavan Inn and Club


Want to see some big bass photos? Then click on Donavan Photos (link to the left)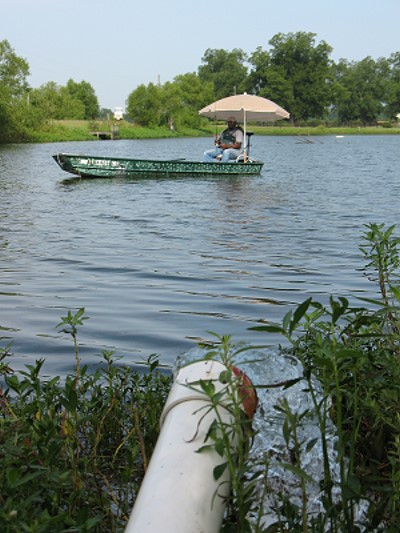 John Heard, Marion, knows how to beat the heat and to catch bass from Club lakes. John is fishing the cooler water that is being pumped into a lake. John saw bass chasing shad in the cooler water and he joined the fun.(July 2010). Additional photo of John Heard.


""I am extremely impressed with your management of these properties... some of the best habitat that I have ever fished and I have been tournament fishing all over the USA for 30 years. In Alabama, I have fished Levelwood, Sweetapple, and Old Spring resort lakes and I had rather fish the Donavan Lakes." John Nolan (new member, 08). See John's bass and read about his fishing at the Club.



DR. WILSON WE WACKED 'EM SUNDAY, --- WE CAUGHT 40+ NO "GIANTS ( LIKE STEPHEN AND LIZ) BUT THE BITE WAS FANTASTIC! WE HAD A "BEST FIVE" EACH OVER THIRTY LBS. WITH SEVERAL 7'S AND A BEST FISH OF 8+. FINALLY FIGURED OUT THE DEEP STUFF AT DONAVAN. THANKS FOR A GREAT PLACE TO SPEND QUALITY TIME AND RECOUPE FROM THE REAL WORLD. JOHN P.S. THANKS STEPHEN AND LIZ FOR THE HELP! John Nolan, Oct. 08


Note: Stephen joined the Club in Feburary, 08. He often fishes with girldfriend, Liz Lassiter. See this bass fishing dueo's trophies on Donavan Photos page. Stephan and Liz are now married and they will fish the Club lakes in July, 2012. I will post photos of their bass with a report of their fishing trips.. TW

See Stephen and Liz catch big bass from Club lakes on their U-Tube site....russeo48 Most every one of Stephen's U-Tube videos are from the Donavan Club... awesome stuff!

*See photos of big bass recently caught (summer 09) by Stephen and Liz in the Donavan Photos link at the upper left margin.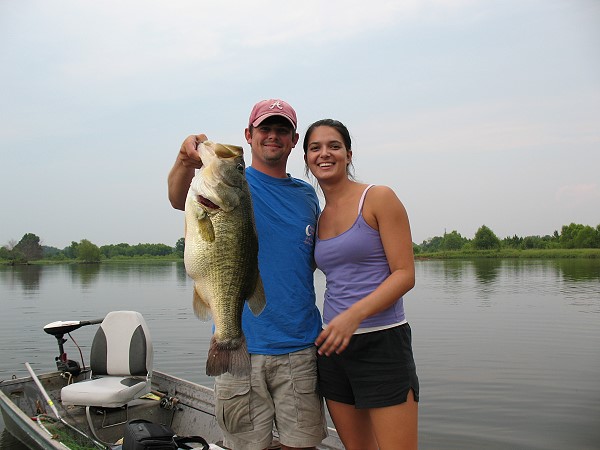 Stephen Russell, Electrical Engineering student at the UofA, and girldfriend, Liz Lassiter, UofA Interior Design student (17 July 08) photo by Manager Wilson. Note: Stephen and Liz are married and are a happy fishing couple.




See a slide show of Stephen and Liz's outstanding bass from Doanavan Club Lakes...I mean OUTSTANDING BASS at their Bass Fishing Alabama site! Be sure to click on the Fishing Pictures link.


Hi Mr. Wilson,
(email: 6 Oct. 2008)
Just wanted to check back in with you. We managed to catch a few more lunkers since the last time I spoke to you. Liz finally caught one over 10 pounds, it weighed 10 lb 2 oz. We have not been able to do as much fishing lately now that school has started back. We went yesterday, which will probably be one of the last fishing trips we make this year. I wasn't expecting to do nearly as well as we did. We caught two seven pounders and the biggest was 10 lb 7 ounces. Not bad for a day in October. Well, I just wanted to say thanks again and look forward to another good year in 2009. Thanks, Stephen Russell Liz Lassiter Tuscaloosa, Al (see Donavan Photos link for Liz's big bass).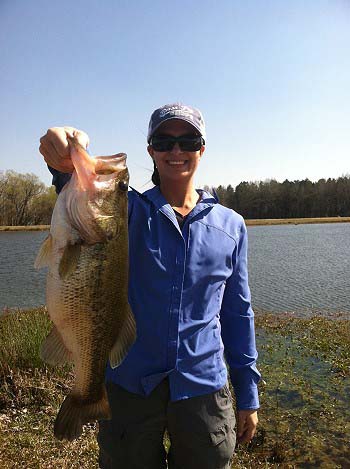 Liz Russell caught this 8 3/4 lb bass on 8 lb test line and a 4 inch finese worm,
15 March, 2013.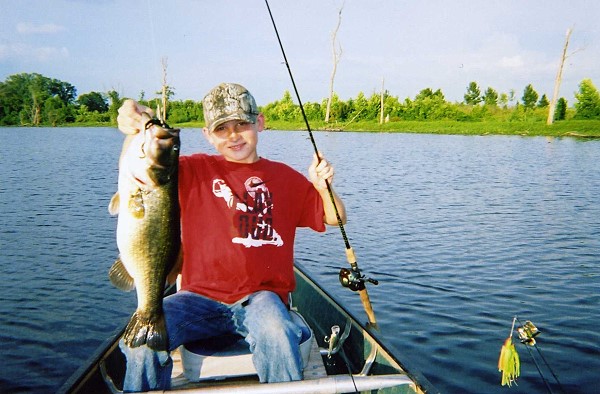 Hudson Wilson, Manager Wilson's grandson, caught this 9 lb bass
from a Donavan lake (07).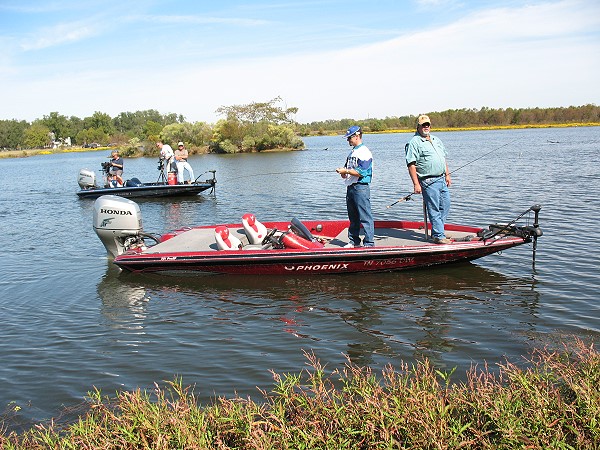 Charles Ingram of Fishing University TV Show filiming a recent program
at the Donavan Club (Oct. 23, 2010) - TV images


Google Earth photo of Donavan Lakes Club

Google Earth Photo of the Bar-D lakes

Club News, Rules, Water Conditions
and Lost & Found




Eastern Lesser Siren salamanders are in the Donavan Lakes. Read all about it...see images.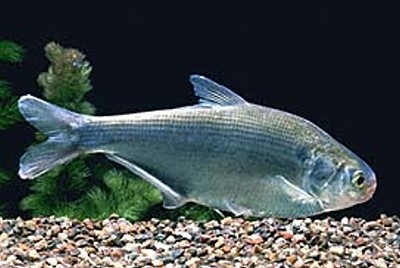 Gizzard Shad added to Lake Roy in May, 2007

Cast nets are not allowed on Club property!

Release all Bass over 3 lbs. (16 inches in length)

Do Not put bass over three pounds on stringers or in livewells!

Bed Fishing for Bass is not allowed
in any club lake!


No live bait fishing for bass or crappie in any club lake!
Lure fishing for bass only!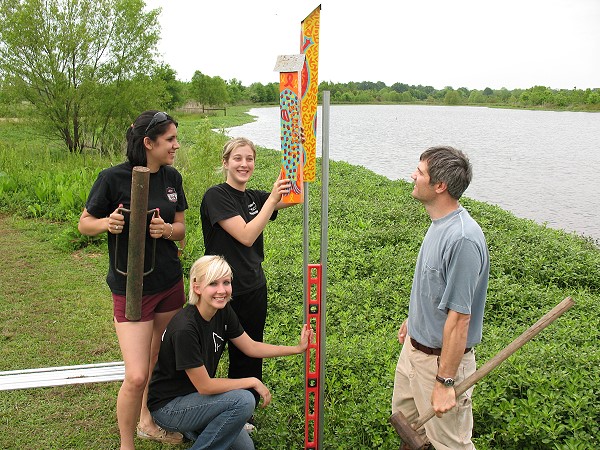 Judson College art students and their instructor, Ted Whisenhunt, made and installed the art sticks that decorate lakes Donavan and Sturdivant. See Donavan Photos link for more images (summer, 09).



The George Hinkle Story...Champion of Big Bass at Donavan Lakes Fishing Club!


Rodney Smith tells his big bass secrets...don't miss this one!

Location: Donavan Lakes Fishing Club includes the original four lakes (1994) of the Bar-D Fishing Club and the five lakes of the new (2002) Donavan Club. Donavan Lakes Fishing Club is located on Perry County 38 (four miles south of Marion on Hy 45; take Perry County 38 west for one mile; Donavan Club sign and gate on the right). Or, if traveling on State Hy 5, go six miles south of Marion and take Perry County 38 east for 2.1 miles; Club sign and gate will be on the left.


Sturdivant Farm (home of Donavan lakes) is a working hay farm and cattle ranch. Over 1,000 acres including lakes, swamps, woods, pasture, trails and creeks are available to members.
The Roy and Inez Barnett family enjoys an outing at the Donavan Lakes farm (December, 2002).

Roy and Inez Barnett, owners and managers of the Donavan Lakes Fishing Club and
Donavan Inn

The Inn has a flat screen TV with Dish Network and the Classic Gold 250 package...includes ESPNU, so, all SE Conference football games are available!

Bob Romine, Pratville, fishes only from the bank and he is a leader in the club for landing big bass. The 12 lb. 1 oz. lunker (below) came from Lake Gayle. Bob's largest bass from the Club is 14 lbs. 1 oz caught in February.


"I went to Mexico bass fishing two years ago. I won't go back. I had rather fish at Donavan...the bass are bigger!" ... said to me by member Bob Romine of Pratville (9 Dec. 07)

Special Feature...Bob Romine and his big bass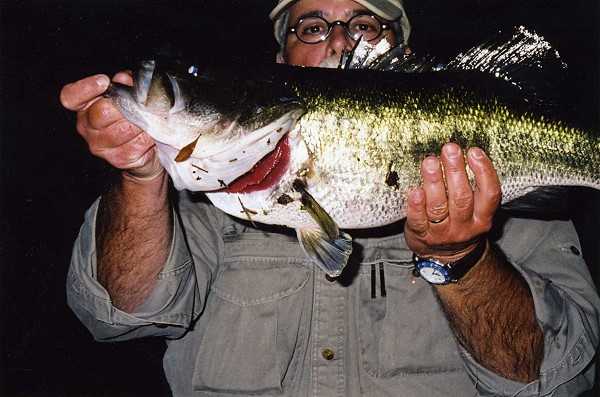 Look for Bob and his bright red truck. His entire tackle collection is designed for big bass f rom the bank. His 9 ft. spinning outfit is the best...in fact, I bought one exactly like it and now I can fish in the middle of all lakes from the bank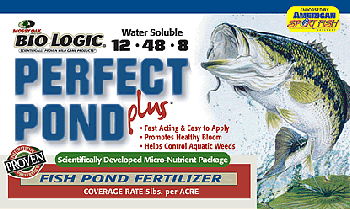 Read about Donavan Lakes Fishing Club
and Bio Logic pond management project.
Bar-D Fishing Club (part of the Donavan Club)
977 Co. Road 20, Marion, AL 56756
Manager Wilson,

I have been catching some really big bluegill at the Bar-d lakes. I have attached some pictures and I double checked my scales when I got home and they were dead on. First 3 pounder I have caught and several two pounders. Just thought you might want to know. Thanks, Ed Johnston
(Birmingham, 22 June, 06)

Marion McMurphy of Mobile was given a Christmas gift certificate from his son for two days at the Donavan Inn. Marion and his wife came this March and had a wonderful time. Marion invited his friend, Bobby Moore, Marion, to fish with him one morning.


Bobby is a good fisherman and he caught the bass of his life at the Club. However, he lost the "big" bass after it wrapped his line around a stump.

Bobby's bass weighed 10 lbs 8 ozs. (March, 2010)




Randal Cowart with a 14 lb 1 oz bass caught from Lake Ely. Randal was using 4 lb test line (February, 2001).


(left) World record bass (22 lbs. 4 ozs) caught in Georgia by George Perry, 1932.

With Gizzard Shad now in Bar-D lakes, we can break the AL State Record and maybe the World Record for largemouth bass.
The Donavan Lakes project consists of Donavan (40 acres w/three large fishing piers) and Sturdivant (12 acres w/three piers) lakes. These two lakes opened for fishing on 1 June, 2002. Lakes Sturdivant, Inez and Donavan have well water pipes running to them for low water periods.

Eddy and Melanie Eddy caught these big bream in April, 2013. They are new members and are off to a fast start.
Everett Sharp and his friends from the Tuscaloosa Flyfishing Club rented the Inn and spent several days catching bass in Club lakes. Everett caught this 6 3/4 lb bass with his homemade weedless frog popper, Apr. 2010.
We added 1,000,000 Golden Shiner fry to Donavan Lake on Friday, 23 April, 2010.

The fry came from Anderson Minnow Farm in Arkansas.

Golden Shiners will grow fast and big...up to 12 inches in length. They are the native forage fish of Florida Bass. Golden Shiners will allow our bass to reach maximum genetic size...really huge.

Jessie Brumfield (Judson College soccer player), Manager Wilson, Mr. Cox, and Steve Cox (Exc. Dir. of International Expeditions...The World Leader in Nature Travel) participated in the shiner project.

Below: Manager Wilson and Steve Cox enjoyed adding the golden shiners to the lake. A 2 inch long baby bass swam between my legs and ate a mouthfull of tiny shiners.
| | |
| --- | --- |
| | Lauren and Hudson Wilson (my grandkids) with nice bass from Sturdivant Lake. |
| | |
| --- | --- |
| | |
| Andrew Pitts of Birmingham with 9 lb bass | |
The roofed pier on Sturdivant Lake has four ceiling fans with lights, a sink and cabinet with hot and cold running water, patio furniture and a fishing deck. The walkway to the pier is lined with solar lighting. This pier is open to members but may be reserved for functions. A "Pier Reserved by Owner" sign will indicate when this pier is rented or reserved for functions.

Two lakes at the Donavan Club opened for fishing on 1 June, 2003. Snag and Swamp lakes are each close to 20 acres and they are full of heavy structure...definately Spider Wire lakes. Lake Inez is six acres and is well designed for bass fishing with islands, channels, ditches, pea gravel bedding areas and numerous large felled trees.


Lake Inez lost all of its water during the drought of 2006. The lake is now full, has been restocked, and opened for catch-and-release fishing 1 Jan. 2009.
| | |
| --- | --- |
| | |
The Stocking Program for the Donavan lakes adds to the excitement and productivity of this outstanding fishery. Only F1hybrid largemouth "Tiger Bass" have been and will be stocked in these lakes. Bluegill, shellcrackers, and coppernose bream are being stocked along with rosyred fathead minnows and threadfin shad.

Sturdivant Lake is stocked with a combination of Florida and F1 hybrid Tiger Bass. This lake is stocked with coppernose bream (85%) and shellcrackers (15%). Fathead minnows and threadfin shad were stocked in this lake. Gizzard shad are in this lake and should help the bass grow exceptionally large in a few years. Catfish weighing up to 20 pounds are in Sturdivant Lake by accident...we thought we had removed all of the catfish.

Vincent Thornton, Tuscaloosa, caught a 14 lb bass from Lake Gayle in February, 2003. Tina Russell from Heiberger, Alabama, caught a 13 1/2 lb bass from the Lake Ely pier in May of 2001. These two Bar-D lakes continue to produce huge fish.
Notice: Heavy rains of spring of 2018 washed out the Lake Ely spillway and we lost the lake. The spillway and dam were restored, the lake filled, and restocked in the summer (2018) with Northern Bass, Shellcrackers, Bluegill and Coppernose bream, Golden Shiners, and Rosy Red Fathead minnows. Threadfin Shad will be added in the Spring of 2019. Lake Ely will open for fishing in October, 2020.
| | |
| --- | --- |
| | The Sturdivant Farm House (1890) has been remodeled and restored. New living quarters have been built as an add-on to the rear of the old house. This farm house (Donavan Inn) is available for rent to all interested persons. Donavan Inn opened on 1 April, 2004. |
Swamp Lake is a great fishing place for those who like heavy structure and a closeup trip to nature. It is a Scum Frog and Snagless Sally hole.

Camping in tents, popup campers and in RVs is free at the both Clubs. Electrical outlets are available and free for general use. We charge $25/day to members for electrical hookups for summertime airconditioner usage. Payment is on the honor system...Give the fee to Manager Wilson when you see him at the Club or mail the fee to Manager Wilson.


Self-contained RVs of any lengh may camp at the RV gravel pad next to Lake Gayle at the Bar-D Club (see above photo). The Donavan Club has a self-contained RV camping area beside Swamp Lake. This RV area is grassed and has five 30/50 amp hookups.
Do Not leave your camper unattended anywhere at the Club...take it home with you!

People who camp at the Club are doing so at their own risk. We are not responsible for damage done to camping vehicles. You need to see the camping areas before coming to camp. This is a prairie...the land can be a soggy mess during the winter and after a big rain.

Popup campers and tent camping are allowed anywhere reasonable at the Bar-D club. Popup campers and tent camping at the Donavan Club are allowed only on the back property near lakes Snag, Swamp and Inez.


Do Not leave your camper on Club property...take it home with you! You may camp for 7 straight days then you must remove the camper from our property. You may camp after 14 days have passed.
Manager Wilson led a birding tour of Perry County for the Birmingham Audubon Society in April of 05. The group spotted the uncommon American Bittern in the reeds on Donavan Lake. This bird was a new Life List for many of the birders.

Manager Wilson watched an American Bittern feeding along Donavan Lake dam (Dec. 18) ..."Got my boat close to the Bittern and watched him for a long time... wonderful bird ... it was migrating to tropical American and stopped to snack on our small fish."
In addition to exceptional fishing, the Donavan/Bar-D environs provide wonderful opportunities for birding, walking, camping, picnics, nature trails, and peaceful relaxation. I have seen eagles, ospreys, kites, great egrets, wood storks, white ibises, ducks, geese, shore birds, herons, rails (with chicks), hawks, anhingas, cormorants, bobolinks, and may songbirds on the property. The lakes and woods are visited by deer, fox, beavers, coyotes, ground hogs, otters, turkeys, alligators, snakes, and other fine creatures.

" American Bitterns have been seen during the winter at Donavan for the past two years. I saw one in early December of 07. A pair of mature bald eagles spent Sunday afternoon on Swamp Lake. I watched these majestic birds play and pearch on dead trees for several hours. Their brilliant white heads and tails were beautiful. It was a blessing to be so close to birds that almost became extinct in my earlier years" (Manager Wilson, December 15, 2002). A ball eagle has been perching atop a pecan tree beside the Farm House. An anhinga can be seen early in the morning at Lake Ely at Bar-D." (Wilson, December 28, 2003).

Membership in Donavan Lakes Fishing Club

Credit Card Payments: We will take credit cards for the fishing club and for the Donavan Inn. All Fishing Club credit card transactions are to be done with Manager Wilson. All dues are to be paid to Manager Wilson.


| | |
| --- | --- |
| | |

Two new and exciting Donavan Club lakes (Snag, & Swamp) opened for fishing on 1 June, 2003. Lake Inez Inez lost all of its water in the drought of 2006. Lake Inez has been drained and is now part of the Wetlands for Wildlife Program ... an effort to help migratory waterfowl (Nov. 2010).