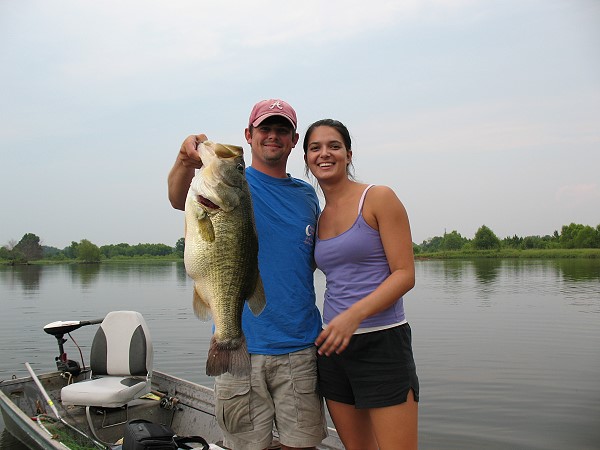 Stephen Russell, Electrical Engineering student at the UofA, and girldfriend, Liz Lassiter, UofA Interior Design student (17 July 08) photo by Manager Wilson


See a slide show of Stephen and Liz's outstanding bass from Doanavan Club Lakes...I mean OUTSTANDING BASS at their Bass Fishing Alabama site! Be sure to click on the Fishing Pictures link.


Hi Mr. Wilson,
(email: 6 Oct. 2008)
Just wanted to check back in with you. We managed to catch a few more lunkers since the last time I spoke to you. Liz finally caught one over 10 pounds, it weighed 10 lb 2 oz. We have not been able to do as much fishing lately now that school has started back. We went yesterday, which will probably be one of the last fishing trips we make this year. I wasn't expecting to do nearly as well as we did. We caught two seven pounders and the biggest was 10 lb 7 ounces. Not bad for a day in October. Well, I just wanted to say thanks again and look forward to another good year in 2009. Thanks, Stephen Russell Liz Lassiter Tuscaloosa, Al (see Donavan Photos link for Liz's big bass).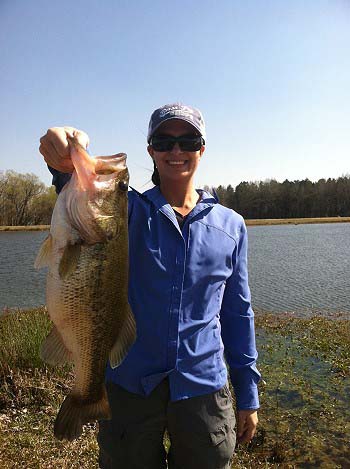 Liz Russell caught this 8 3/4 lb bass on 8 lb test line and a 4 inch finese worm,
15 March, 2013.